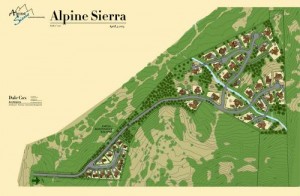 [courtesy of Moonshine Inc / Melissa Siig}
Alpine Meadows could see its first major residential development since the early 1980s if the proposed Alpine Sierra Subdivision is approved. The project, which is located at the top of the valley near the ski resort, proposes 47 units — a combination of single family homes, duplexes, and cabins — over 45 acres. Some residents, however, are concerned about construction impacts, especially if the Bear Creek Association grants access to the development through its private road.
The Alpine Sierra Subdivision is a project of Chris Nelson, a principal at Capstone Partners, LLC, in Portland, Ore., along with his wife and two other couples. The group purchased the Alpine Meadows property in 1997 when Nelson was living in Reno and owned a home in Bear Creek, a private subdivision in Alpine Meadows. The project comprises two components: a high density section composed of 14 townhomes and six custom cabins near the ski area and Stanford Alpine Chalet, and a low density area further east that includes 27 large lot estates above the Bear Creek subdivision.