Article Taken from MoonshineInk.com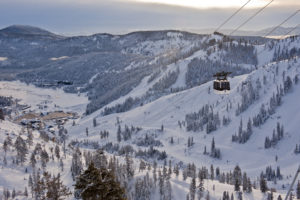 Four Things the Next Wave of Ski Resort Consolodation Fortells
There's a new major player in the ski industry, and its name is… well, it doesn't have a name yet. But this newly created entity formed by a merger between affiliates of KSL Capital Partners and Aspen Skiing Company just went on a spending spree, purchasing Intrawest Resorts Holdings and Mammoth Resorts over the last week. That's 11 mountains in one week, including Squaw Valley Alpine Meadows. Vail Resorts, by comparison, owns 14 winter ski resorts.
The deal isn't slated to close until the third quarter of 2017 (July 1 to Sept. 30), so nothing is set in stone as of yet, but here are some things to expect if everything goes as planned.
1. Your season pass probably won't change… This year.
"The 2017/2018 passes will remain the same," said Jeff Hanle, director of public relations at Aspen Skiing Company. According to press releases posted by Intrawest Resorts Holdings and Starwood Capital Group, the pass products currently on sale will not change next winter, including the Mountain Collective product associated with Mammoth, and the Rocky Mountain Super Pass and M.A.X. Pass associated with Intrawest.
As for Squaw Alpine, Andy Wirth, president and CEO of Squaw Valley Ski Holdings, said he could not comment on possible changes to season pass products in the near future, simply because of the amount of snow currently at the resort, stating "[Squaw Alpine] may not close this summer and fall."
The resort does plan to honor passes already purchased. "As passes for next year are already being sold, no immediate changes to pass products are planned. 2017/18 season passes and shared passes, like the Mountain Collective, will be honored," Liesl Kenney, public relations director as Squaw Alpine, said in an email to Moonshine Ink.
What the following years will hold, after the deal goes through and cohesive technology platforms across the multiple resorts have been established, is another story. The lucrative success of Vail's Epic Pass (Vail reported over $1.3 billion in total mountain net revenue last year) is well known in the industry, and with a product that now spans the country and into Canada, it is likely that the new Aspen/KSL group may follow suit with their own cohesive multiple resort pass.
2. Squaw Valley Ski Holdings is part of the deal.
While not a condition of the Aspen/KSL merger, Squaw Valley Ski Holdings will become a part of this new and unnamed entity upon closing. According to Wirth there will be no changes to its management and leadership. "We're part of the acquiring company, so the answer is no," Wirth said, regarding changes to the staff structure at the resort.
According to Wirth, customers of Squaw Alpine may have access to new product opportunities due to the expansion of other resorts made available in this deal, but for now it is only speculation. He says there is a lot of work still to come, especially in formatting the resorts' differing operating systems, and that work began even before the merger to move toward a contemporary information system that would streamline everything from marketing to ticket scanning. Further improvements and development at the resort will also maintain a similar trajectory. "We have continued to invest in ski operations at both mountains and that is going to continue if not be enhanced," Wirth said.
3. These mountains won't lose their identities… this year.
According to Jeff Hanle, a large part of the purchase made by Aspen and KSL is based on maintaining the diversity of mountains like Mammoth. Wary of homogenization, Hanle says that they were looking mountains that represented a "broad spread across the country" and all had unique traits to bring to the table. As of yet, Hanle said no plans exist to change the overall identity of the resorts to be purchased by Aspen/KSL.
"I don't want anyone to go to Squaw or Mammoth and see the word Aspen," Hanle said.
The resorts owned by Aspen Skiing Company will not become a part of the new entity and will remain solely under Aspen ownership. These include: Aspen Highlands, Aspen Mountain, Buttermilk, and Snowmass Ski Area.
4. This new entity might not have a name yet, but it's got some serious market share.
Look out Vail. Resorts that will fall under the ownership of the KSL/Aspen merger following closing this year include:
Mammoth Mountain, California
Bear Mountain, California
June Mountain, California
Snow Summit, California
Squaw Valley Alpine Meadows, California
Blue Mountain, Ontario
Snowshoe, West Virginia
Steamboat Ski & Resort Corporation, Colorado
Stratton, Vermont
Tremblant, Quebec
Winter Park Resort, Colorado
The acquisition of Mammoth is a direct challenge to Vail Resorts, which might very well have purchased Mammoth given the chance.
When Moonshine Ink spoke with Tim Cohee, ski business and resort management program director at Sierra Nevada College, about the corporatization of Tahoe ski resorts last month, he speculated at Mammoth being the next logical purchase for Vail Resorts, and stated that it would "give them a stranglehold on the Southern California market, which is the largest ski market in the United States in [the Pacific Southwest]"
The four resorts purchased in the Mammoth deal cover a land area of more than 6,000 acres, and see approximately 2 million visitors a year. Intrawest and its properties sold for $1.5 billion and includes the largest heli ski operation in North America, Canadian Mountain Holidays. In addition are the four resorts that are already owned by Aspen Skiing Company.
Exactly what form the resort partnerships, branding, collective season pass deals, and other benefits of the deal will take is speculation at this point, so stay tuned. "We're still formulating how it's going to be made up. We don't even have a name yet," Hanle said. "We were just moving fast to get all these things in place."