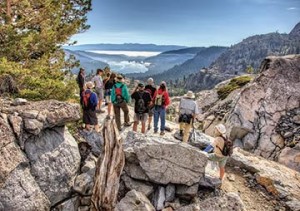 Courtesy Donner Party Hikes · 
Historic hikes
Summit Meadows | Hikers skirt by Lake Van Norden with stops to see rock with mortars and other remnants of emigrants passing through. Moderate, 4-mile hike.
Summit Canyon/Dutch Flat Wagon Road | Explore Dutch Flat Donner Lake Wagon Road and the Lincoln Highway. Pass petroglyphs, roadside billboards and the China Wall. Find out where and why these roads were built. This hike is a moderate, one way for 3.5 miles.
Roller Pass/Judah Loop | Hike up the Pacific Crest Trail to see views of Donner Pass, Coldstream Pass and Roller Pass where emigrants were forced to winch their wagons up a 35-degree granite slope. Continue up to the top of Mount Judah and on to Donner Peak before descending back to Mt. Judah Lodge. Moderate to strenuous hike for 5.4 miles roundtrip.
Coldstream Pass | This 4- to 6-hour hike climbs over Coldstream Pass, one of the most heavily traveled emigrant routes. The 6-mile hike is strenuous, with some bushwhacking while rising and descending over a minimum of 1,800 vertical feet. Hikers should be in good physical condition.
High Sierra Lakes | Enjoy incredible vistas seen by emigrants as they passed through the High Sierra years ago. Discover hidden alpine lakes while exploring Donner Summit in a moderate to strenuous 6-mile hike.