By Melissa Dittmann Tracey, REALTOR® Magazine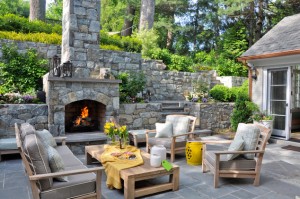 Landscaping projects are being driven by two main reasons: To create entertainment spaces and fix yard problems, according to the Spring Houzz Landscaping Survey of more than 4,500 users on the remodeling website.
Fifty-six percent of home owners surveyed say they are making updates to improve their yards for entertaining, and 55 percent say they are tackling projects to solve issues of flood, sun exposure, and privacy.
Home owners are turning their backyards into entertainment spaces with outdoor eating spaces and living rooms. The top features they're including: Patios and decks, BBQ's, fire pits, sound systems, and outdoor kitchens, according to the survey.