By Perri Ormont Blumberg for Realtor.com
With the warmer months approaching, it could be time to part ways with those old, weather-beaten chairs (yes, finally) and refresh your outdoor space.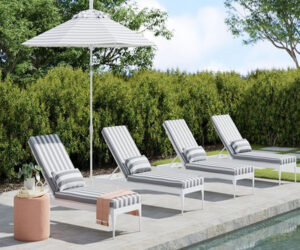 To provide some design inspiration, Wayfair Professional released its 2022 Outdoor Report on the outdoor trendsthat are on the rise for spring and summer 2022. As the COVID-19 pandemic lingers on and people continue to work from home, the importance of outdoor space remains a big influence across the country. Wayfair Professional looked at search data from millions of Wayfair customers to identify several emerging trends.
"Within each of these overarching trends, there are elevated items to bring newness and excitement to your design—from tile to sconces, dining sets, and more," says Rebecca Breslin, senior design manager of Wayfair Professional.
For those not ready to entirely overhaul their yards, she recommends implementing some small updates
"Think mosaic floor tiles, a pergola, or outdoor rugs," Breslin says. "If your outdoor space is larger, plan to break up the space with a few of these moments: a rug under a dining table, tile for your lounge seating area, and more."
Below is a look at five of the top outdoor trends right now.
Colorful cabana stripes are back
This design style is having a moment as people look for easy ways to brighten up their space and find inspiration in nostalgic summer designs.
"This timeless summer staple is making a bold comeback," says Wayfair Professional stylist Cojo Barnes. "From classic navy blue to sunny yellow, cabana stripes are brightening up furniture, drapes, tiles, and more."
To bring the look to your outdoor space, try pool loungers, market umbrellas, beach canopies, and even striped tiles.
Pergolas are enjoying a moment
With the rise in remote working, searches for outdoor pergola kits are up 369% year over year, according to the report.
"Pergolas offer the luxury of enjoying the outdoors while providing shade and protection from the natural elements," says Tampa, FL–based interior designer Sarit Marcus, founder of Minted Space. "One of the many benefits of a pergola structure is that you can tailor it to fit your needs."
Some pergolas are motorized and retractable, allowing users to choose when they want to bask in the sunshine—and when they'd prefer the shade.
Those who enjoy lounging outside can consider adding a couple of chaise lounges or an outdoor sofa under their pergola. A dining table could also be placed underneath a pergola for an elevated entertainment experience.
Pro tip: Buyers should opt for weather-resistant materials and determine the amount of upkeep you'll need for proper maintenance.
Wicker swing chairs are surging in popularity
A hanging wicker egg chair is plain old fun (and who doesn't seek more of that right now?). Wicker provides an artisanal touch and creates visual interest without breaking the bank. Its neutral hue complements virtually any design scheme you may already have in place in your outdoor space.
Searches for these hot items are up 206% year over year, according to Wayfair.
Wayfair Professional stylist Brynna Lee loves pairing the natural material with inspired botanicals for a "vibrant and striking homage to nature."
As floral motifs grow in popularity, "chairs, in particular, are getting more playful in this trend, with a variety of retro shapes and styles," Lee adds.
To complement a new chair and botanical designs, look for painted ceramics, garden stools, and sculptures.
Lounge on a round, outdoor daybed
Does a refreshing glass of lemonade and a good book sound like an excellent way to spend the afternoon? If so, this one's for you. Year over year, searches for round outdoor daybeds have skyrocketed 142%.
"In general, circular shapes are more inviting than angular shapes," says Minted Space's Marcus. "Round shapes are softer, evoke a sense of continuity, and also optimize a seamless flow in conversation and inclusivity, as everyone can see and hear each other more so than [with] rectangular-shaped furniture."
However, unlike pergolas, daybeds don't offer shade. So she recommends buyers set up a cover for inclement weather and place the daybed under a shady area.
Get cozy with an outdoor fire pit
You don't need to be at the beach or a resort to enjoy a good ol' fire pit.
It's not surprising that outdoor fire pit table sales are up 72% year over year. Who doesn't want to get cozy next to one on a cool fall night? It also serves as a place to rest your drink and food.
"There are many fire pits available, including wood-burning and gas," says Marcus. "Choosing a clean-burning fuel such as bioethanol instead of wood or propane has the benefits of no mess, no smoke, and no smell."